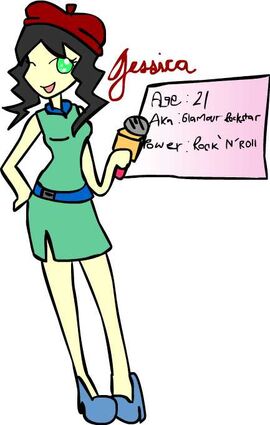 A new hero in season 2! She is best friends with Harmony,Jewel. Her hero form is Glamour Rockstar
. 
She was an interviewer who interviewed people then during an interview with dot Dot accidentally knocked the white energy on her.
First Apperence:
Last Apperence:
Abilities
Edit
Rock N Roll
Rare Ability:Gangam Style
Special Ability:ROCK OUT!
Personality
Edit
Jessica is very energetic, rockstar, sometimes very boyish, likes sweet, sour, and spicy things, is a huge fangirl over Patch
She has stagefright.
Alive